Retractable Access Guard
Mobile Flexi-Barrier
Trellidor Retractable Access Barrier
Trellidor Access Guard is a mobile, expandable, trellis-style barrier that requires no fixed installation. It can be moved quickly and easily from one location to another. Because it is expandable it can be adjusted to perfectly fit apertures of varying sizes. For larger spaces, several Access Guard units can be attached and locked to create a secure barrier of extended length.
Trellidor UK For Your Access Guard
Mobile Flexi-Barrier
Adjustable to the required width.
Easy to move to wherever it is needed.
Suitable for large openings
Units link and lock together for large openings.
Suitable for uneven surfaces
Can be used on uneven surfaces.
Made from high quality material, so durable and robust.
Retracted units are compact, easy to pack and require minimal storage space.
Standard units are white or black. Custom colours made to order.
Standard units are 1m, 2m or 3m sizes. Custom sizes made to order.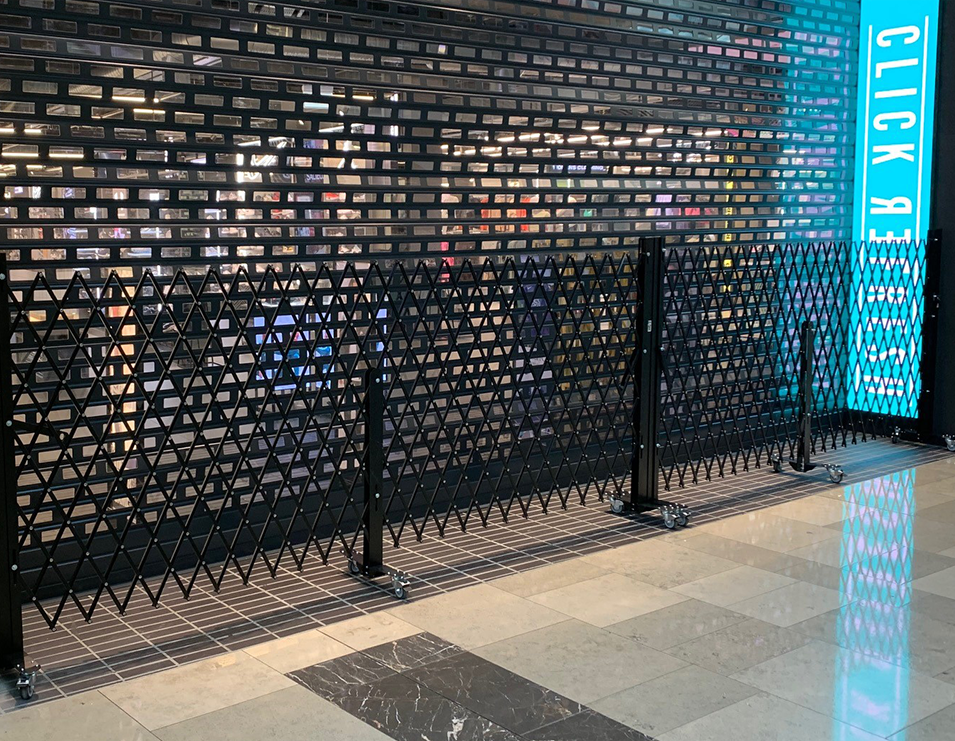 Trellidor Access Guard is designed to control unauthorized access to a wide variety of areas. They are often used to secure applications such as:
Trellidor Access Guard Specifications
Manufactured from high grade galvanized mild steel.
Powder coated to a lustrous, high-quality finish.
Standard colours are white or black. Custom colours available.
Extra strong, strength tested Trellidor uprights.
Lock styles and jambs manufactured from aluminium.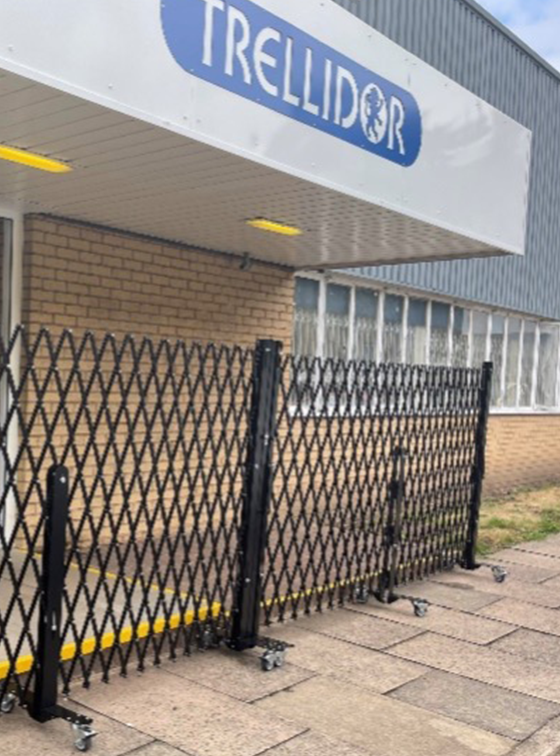 Steel bases fitted with 75mm rubber wheels for easy gliding and movement.
Barriers are attached, locked, and extended to unlimited lengths.
Standard sizes included 1m, 2m or 3m lengths. Custom lengths available on order.
Maximum width per unit 3.5m and maximum height 1.57m.
Manufacturing Quality Standards
Trellicor (Pty) Ltd is ISO (International Standards Organisation) compliant. Trellidor is ISO 9001:2015 certified in terms of QMS requirements, audited and assessed by the London-based Loss Prevention Certification Board.